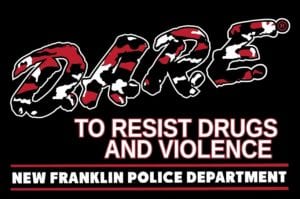 The Kaderly Foundation was happy to assist, first year D.A.R.E. Officer, Jason Tirbovich and the New Franklin Police Department with the 2016 D.A.R.E. (Drug Abuse Resistance Education) program.  Manchester Middle School 5th Graders received T-Shirts as a part of their graduation from D.A.R.E. on May 6th. The ceremony was held at Manchester Middle School with parents and teachers were invited to be on hand to show their support of the students.
The course is a 10 week class and is conducted during Social Studies classes each Friday. The class was started with the D.A.R.E. Box that was decorated by the students specifically for the question and answer period that started each session. Officer Tirbovich says that "they could ask whatever question they have about anything and it could be anonymous if they wanted." The topics that were addressed each week were once that related directly to the students. Such as, Bullying, Risks, Good Behavior, How To Say No, Causes & Effects, and Good Citizenship. Classes were also included videos that related to the days topic.
To graduate the program, each participant had to complete a workbook and the assignments that were given throughout the 10 week course. They had to follow the D.A.R.E. guidelines and sign a contract saying that they will continue to follow those guidelines through their graduation of high school. Officer Tirbovich added, because they "sign a contract, if I ever have to deal with them in the future, I can pull out that contract.
Officer Tirbovich is in his 1st year teaching the class and is certified in K-4: Elementary and Middle School curricula. He became certified in September of 2015 by completing 80 hours of intensive training by Ohio's accredited Training Center. That training was administered by the Peace Officers Training Academy in London, Ohio. D.A.R.E which is in 75% of the nation's school districts and in more than 43 countries around the world was founded in 1983. The Kaderly Foundation would like to thank him and the Manchester Local Schools for their participation in the program.